المعالج:
CPU:

تقييمه في موقع البانش مارك , مقارنة سريعه بينه وبين i5 من الجيل السابق i5 10th 
i5 9400 vs i5 10400
---
Premium 50A Power Choke
Compared to traditional chokes, ASRock's premium 50A power chokes effectively make the saturation current up to three times better, thus providing enhanced and improved Vcore voltage to the motherboard.
Sapphire Black PCB
Pure black PCB appearance. The new Sapphire Black PCB represents rock-solid quality and gives the motherboard a more mysterious touch.
High Density Glass Fabric PCB
High Density Glass Fabric PCB design that reduces the gaps between the PCB layers to protect the motherboard against electrical shorts caused by humidity.
3 Graphics Outputs
Complete with all three types of most used connectors! Packed with a D-Sub + DVI-D + HDMI combo. Plus the HDMI port supports 4K resolution.
Water Pump Header
This is not only a standard CPU fan header, but also supports water pumps! This header provides a maximum of 2A power for supporting the most popular water pumps. User also can adjust the voltage of water pump to get higher cooling performance with lower noise.
Full Spike Protection
Some sensitive digital components on the motherboard are vulnerable to power surges, the excessive current may cause your system to malfunction immediately. ASRock Full Spike Protection includes various technologies to prevent your motherboard's components from being damaged by these unexpected voltage spikes.
Live Update & APP Shop
ASRock Live Update & APP Shop is designed for your convenience. We provide various apps and support software for users to download. You can also easily optimize your system and keep your motherboard up to date with ASRock Live Update & APP Shop.
The specification is subject to change without notice in advance. The brand and product names are trademarks of their respective companies. Any configuration other than original product specification is not guaranteed.
The above user interface picture is a sample for reference. The actual user interface may vary with the updated software version.
---
الرام:
Memory Ram:
منتج ذو أداء عالي شركة أمريكيا صناعة المكسيك Crucial ballistix rgb بسرعة أداء 3200 

---
القرص السريع:
SSD:
قرص صلب سريع شركة أمريكيا من ليكسر العالميه, عالي الجوده يتم تحميله بالويندوز والبرامج وبعض الألعاب المفضله, ميزته الأساسيه رفع الأداء والسرعه العامه على الأقل 90%
---
From the manufacturer
Lexar NM610 M.2 2280 PCIe Gen3x4 NVMe SSD
Elevate your PC's performance with faster speed and more efficiency
Designed to elevate your PC experience with faster load times and transfer speeds from boot-up to shut down, the Lexar NM610 M.2 2280 PCIe Gen3x4 NVMe SSD will put you in the computing fast lane with speeds up 2100MB/s read and 1600MB/ write (1). The NM610 is supported by the PCIe Gen3x4 NVMe 1.3 technology standard and built with 3D NAND flash for higher capacity and more efficiency without unnecessary slowdowns. With outstanding endurance thanks to no moving parts it's cooler, quieter, and more reliable than a traditional hard disk drive, plus it's also shock and vibration resistant (2).
High-speed PCIe Gen3x4 interface: 2100MB/s read and 1600MB/s write (1) – NVMe 1.3 supported

Get 3.5x the speed of a SATA-based SSD (3)

Ideal for PC enthusiasts

Features LDPC (Low-Density Parity Check)

Shock and vibration resistant with no moving parts (2)
PCIe Gen3x4 NVMe ––The upgrade that puts in 3.5x the work

Move beyond the pace of a SATA SSD's with an upgrade to the Lexar NM610 and get 3.5x the speed of SATA-based SSD (3). With PCIe Gen3x4 NVMe 1.3 standard, and speeds up to 2100MB/s read and 1600MB/s write, you will feel the improved performance from boot ups, software load times, and transfers giving you maximum efficiency without the constant slowdowns. The NM610 is built with 3D NAND flash inside.

Ideal for PC enthusiast

With sequential read speeds of up to 2100MB/s and sequential write speeds of up to 1600MB/s (1), you'll enjoy better all-around performance for your PC. That's faster boot-ups, data transfers and application load times compared to a SATA SSD (3).

Built to last

Unlike traditional hard disk drives, the NM610 SSD has no moving parts, so it's less likely to fail. On top of that, it's also shock and vibration resistant (2), making it one robust and reliable SSD.

Efficient

Reduced power consumption and cooler operation makes the battery life last longer than an HDD.
(1) Up to 2100MB/s read transfer, write transfer speeds lower. Speeds based on internal testing. Actual performance may vary.
(2) Shock resistant (1500G, duration 0.5ms, Half Sine Wave) and vibration resistant (10~2000Hz, 1.5mm, 20G, 1 Oct/min, 30min/axis(X,Y,Z)). Based on internal testing. Actual performance may vary.
(3) Comparison based on internal testing. Actual performance may vary.
---
هاردسك:
Hard Drive :
خاص بالألعاب بسرعة نقل خارقة, أداء أفضل من WD تصل إلى 25%

---
كرت الشاشه:
Graphic Carde:
GEFORCE GTX 1660 SUPER OC 6G GV-N166SOC-6GD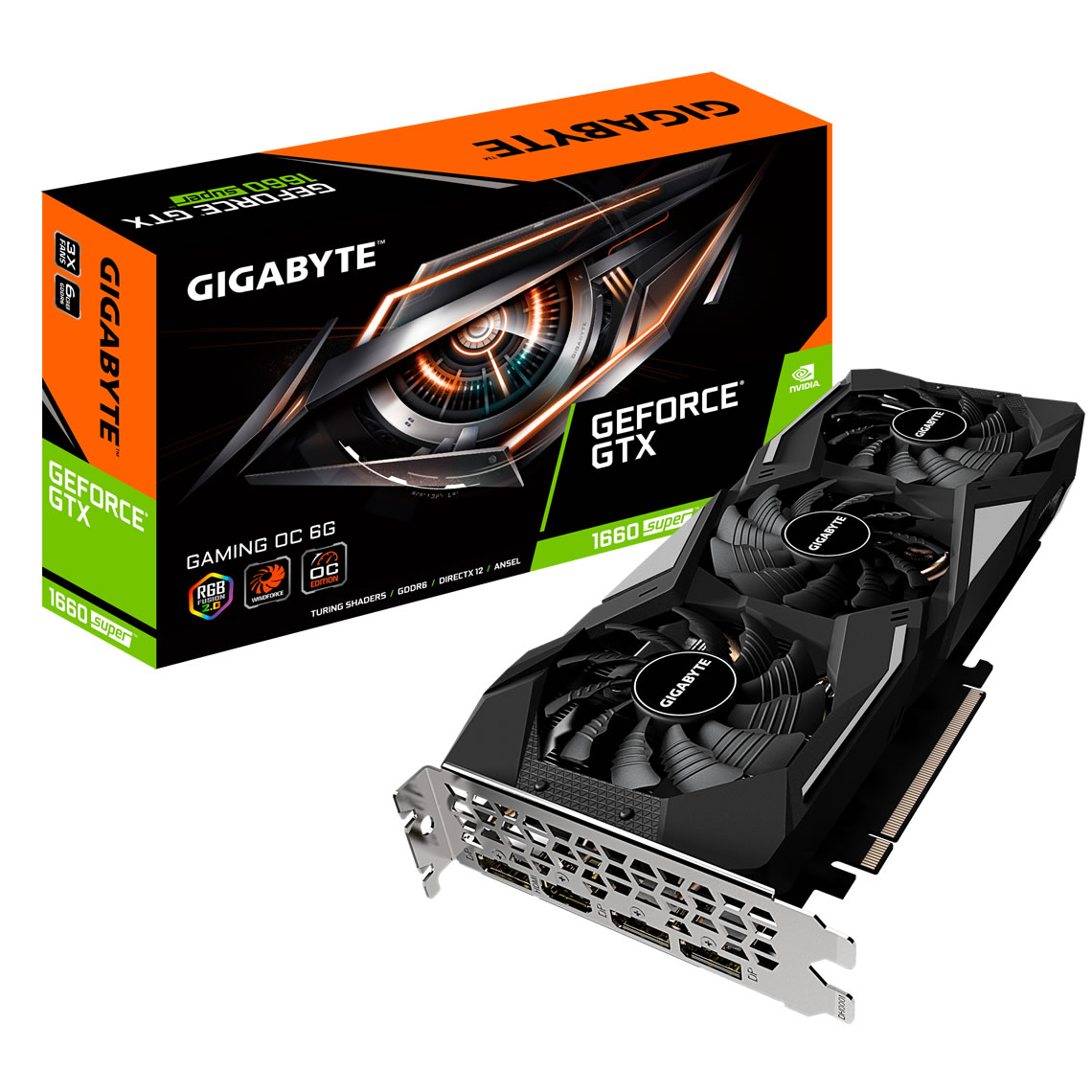 WINDFORCE 3X COOLING SYSTEM
The WINDFORCE 3X cooling system features 3x 80mm unique blade fans, alternate spinning fan, 3 composite copper heat pipes, heat-pipe direct touch and 3D active fan functionality, together delivering an effective heat dissipation capacity for higher performance at lower temperatures.
ALTERNATE SPINNING
The GIGABYTE "Alternate Spinning" is the only solution that can solve the turbulent airflow of three fans. The biggest problem with the three fans is turbulence. Since the fans rotate in the same direction, the airflow direction is opposite between the fans, which will cause turbulent airflow and reduce heat dissipation efficiency. GIGABYTE turns the middle fan in the opposite direction, so that the airflow direction between the two fans is the same, reducing the turbulence and enhancing the airflow pressure.

UNIQUE BLADE FAN
The airflow is spilt by the triangular fan edge, and guided smoothly through the 3D stripe curve on the fan surface, effectively enhancing the airflow.
3D ACTIVE FAN
The 3D Active Fan provides semi-passive cooling, and the fans will remain off when the GPU is in a low load or low power game. It allows gamers to enjoy gameplay in complete silence when the system is running light or idle.
HEAT PIPES DIRECT TOUCH GPU
The shape of the pure copper heat pipes maximizes the direct contact area with the GPU, enhancing heat transfer. The heat pipes also cover the VRAM through a large metal plate contact to ensure proper cooling.
COMPOSITE HEAT-PIPE
The composite heat-pipe combines thermal conductivity and phase transition to efficiently manage the heat transfer between two solid interfaces which increases cooling capacity.

CYCLING
Smoothly cycles through all colors
BUILT STRONG
EXTREME DURABILITY AND OVERCLOCKING
The graphics card uses 4+2 power phases design to allow the MOSFET to operate at lower temperature, and over-temperature protection design and load balancing for each MOSFET, plus the Ultra Durable certified chokes and capacitors, to provide excellent performance and longer system life. (Reference Card is 3+2 power phase.)
PROTECTION BACK PLATE
The back plate not only provides an aesthetical shape, but also enhances the structure of the graphics card to provide complete protection.
IN TOTAL COMMAND
The interface and functionality of the software is subject to each model.
AORUS ENGINE
The cutting edge intuitive interface allows you to adjust the clock speed, voltage, fan performance and power target in real-time according to your game's requirements.
تقييمه في موقع البانش مارك , مقارنه سريعه بينه وبين GTX1060 من الجيل السابق فرق لا يقل عن 24%

---
منظم الطاقه:
Power Suply:
منظم الطاقه 500W من شركة تيوانيه عالميه للحفاظ على أداء ومدى إستمرارية القطع دون الحاجه للصيانه أو تغير القطع في فترة الضمان أو بعدها بإذن الله

600w منظم كافي لتطوير جهازك إلى مواصفات أعلى على المدى البعيد